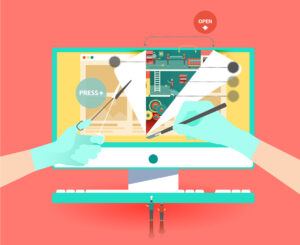 One of the best ways in which to entice new customers to your business in the digital world is through your website, and having and up to date and inviting space that customers can appreciate traversing can make all the different. With proper key wording and other intricate details it serves as your means to optimize your SEO experience, and various other generating programs such as AdWords can make your business revenue at the same time. Local Revive brings you professional website development that you can count on.
Website Overhaul
When your website looks the same way it did ten years ago, you can expect it garner the same results. In todays day of flashy and style, having simplified and often outdated mechanics does no favors for your Woodlands business, this is where Local Revive assists you by bringing you an entirely new look for your website. We update the look, feel, the interactivity and much more to bring your customers an immersive location where they can enjoy spending time, and the more time a potential customer is on your website, the higher your chances for increased sales stems as a result.
Graphic Design
Your graphic design aspect of your website is all about the look and feel of the page. The quality of an overall great graphical design job is much more than simply placing pictures onto your site. They assist in coming up with color palettes, colors and contours, and much more. The right graphical look to your website, from simple and elegant, to flashy and attention grabbing solely comes down to the capability of the graphic design artist, and at Local Revive we bring you some of the best in the business with an eye for detail like no other in The Woodlands.
Client Psychology
Knowing how your clients eye moves along a page, what words grab their attention, and placement of key items is all relevant when it comes to designing the layout of your page, and Local Revive brings you a service that has done extensive research in these fields to provide you with a service that will not only look great, but that will also work using tried and tested approaches to website design. We bring your business much more than just a pretty overhaul, we bring you the science and study of customer relations to improve your websites efficacy.
Key Writing
The last but still key element on your webpage is the actual writing that goes into it. These are the key pieces of your website design that will work directly in SEP optimization, revenue generation such as Google AdWords, and much more. Your website can look as flashy as it would like, but without the substance to back it up, it can be all for naught. Local Revive brings you professional web writers who know how to bring you the best possible layout, and the most use of your keywords while keeping this fresh and simplified across your page.