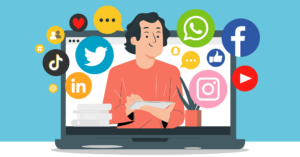 Every day, millions of people across the world log into some of the biggest Social Media platforms such as Facebook and Google Hangouts, many of them from your State, and many as well from the area that is your target demographic, if only there was some way to bring your business to the mix, like a digital business card for those people to look upon. Local Revive brings you this service with our social media management option, extending your digital visibility.
Why is Social Media Important?
We all know that word of mouth is one of the best ways to raise your companies visibility and reputation, and social media brings an all new way for this to happen. With the ability for your customers to instantly share their opinion of your business with hundreds or even thousands of people, where your company takes on an identity and can speak directly to your customers, these are all ways that social media can impact your business, and making the most of the ability to make a positive impact will give your business many benefits in return.
Target Your Demographic
Local Revive brings you a way to tap into your target demographic. With our social media experts, we can get your business the visibility you're looking for in specific niches by bringing it to these areas in a subtle and receptive way. Whether you're aiming for the younger school crowd, or the older parents crowd, we bring you the means to make entry into these demographics and to raise awareness of your business in the target area. This raises your chances of bringing in new and unique customers, and to increase the scope of your potential client base across The Woodlands.
Enlarge Your Circles
By bringing more visibility to your company, you have the ability to expand into ever growing markets. We have seen some business excel better online than they have in physical stores, due to the majority of online shoppers nowadays. Taking advantage of this instant access to services will give your Woodlands the boost it needs to truly drive sales and to make your brand more well known in the area. Enlarging the profile of your business allows you to enlarge your customer base, and the growth teeters back and forth until it hits that level of comfort where you find your goals met.
Create a Unique Voice
When you have the right creation to your social media identity, you have the ability to create a voice for your business. With the assistance of Local Revive social media specialists, you have the ability to have the voice of your business fine tuned to bring the right persona to your company. When choosing Local Revive as your social media experts, you can be sure that we bring the full weight of our experience to your Woodlands business to open an entirely new digital world through your local social media scene, giving you more access than ever to your customer base.