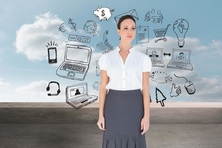 At Local Revive our success as a company is measured by the success we bring to your company. In short, this means that the more we do for your company, and the more positive results you yield, the better we have done our jobs. This is a mutually beneficial set up in that unless your business sees noticeable improvements in it's business flow, and search engine rankings, we haven't done enough for you. This is a fact of our business that is not lost on us, and is the reasoning behind why we go the extra mile for all of our clients.
We aim to establish ourselves as the go to company when it comes to bringing your business the most tangible online presence in the area. We assist you with every aspect of your online business from website design, to social media management and more to ensure that you have access to all of the professional services you need to capitalize on the growing digital market, and to tap into the potential revenue streams that you're currently not a part of. We do this by providing your Woodlands business with the best possible services in the fields of:


Local Lead Generation
Website Development
Social Media Management

​Through our experts in the field, you have access to the best in the business when it comes to these aspects of online business solutions. Whether you need assistance in bringing your webpage to a new and hungry market, to give your online presence an overhaul, or simply to get your name out more in the local area, you can be sure that Local Revive has the means and the experience to do so for you. We have accumulated seasoned professionals in all fields of service we offer.
We are a company that is continually keeping its finger on the pulse of todays market to ensure that we are bringing you relevant services that will have a noticeable impact on your business visibility in The Woodlands and beyond. No matter the speciality of your company, you can be sure that we will bring you services aimed at improving your lead generation, and giving you access to an entirely new demographic through our social media offerings. We aim not only to implement change for you, but also to teach you how to continue the service yourself afterwards.
If you're looking for a solution to your struggling online presence, and need the assistance of tested professionals in the field, we invite you to call into our offices at any time during our hours of operation to speak more with a professional in the field, and to bring answers to the questions you may have. A few minutes of your time with our knowledgeable staff will enlighten you to the world of infinite possibility that the digital market brings you. When you need a company that bases it's level of success on how successful they are for you, you need to contact Local Revive today.